Tea ceremony that refers to "Chanoyu" in Japanese which translates to "the way of tea", Japanese culture that is more than a simple tea party and gathering of friends, is an art and spiritual discipline. Over a bowl of tea, people enjoy pleasant and precious time with friends, nature, conversation about seasonal beauty, art objects in a tea house and freshness of tea and Wagashi (sweets).
The ceremony that consists with 4 principles: harmony, respect, purity and tranquility is very influential to Japanese culture. It also teaches the appreciation of the simplicity and the contemplation of arts found in the tea house and that coexists in the ceremony: ceramic, flower arrangement, calligraphy, architecture, textiles, painting, gardening.
As opposed to "ceremonies" described as fixed traditions and religious events and occasions in the western terms, Japanese tea ceremony is more flexible due to the change of the season, which leads to the change of utensils and objects and the way to perform the ceremony.
The tea ceremony allows people to heighten awareness of the nature and to appreciate and concentrate on the beauty of the present moment that we have one chance.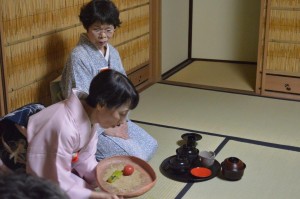 The tearoom was the creation of Rikyu and was designed to accommodate not more than five persons, it consists of:
Chasitsu: A tea room where the tea ceremony is held
Mizuya: A preparation room where the tea-utensils are washed and arranged before being brought in.
Machiai: A waiting room where the guests wait until they enter the tea room.
Roji: A garden path that connects Machiai and Chasitsu
The Chadogu, tea tools consist of:
Items for tea-making and used in tea room
Items used in the preparation room
Decorative items
Items for Kaiseki meal
Items used in the waiting room
What is Wagashi (Japanese sweets) ?